Crash Report – Crockett Martin Road, Conroe, Texas
Report ID: 10 Nov.2022
NCIC#: Unknown
OFFICER ID#: Unknown
---
Traffic Unit 1:  Harley-Davidson motorcycle
Traffic Unit 2: Chevrolet 2500 pickup truck
---
Occupants: 2
Vehicle Damage (If Any): Yes
Property Damage (other than vehicles): Unknown
Road Surface Condition (Dry, Wet, Snow, Mud, Dirt): Dry
Manner of Crash Impact (Single Vehicle, Angle, Left Turn, Rear-End, Head-On, Sideswipe, U-Turn, Other, Unknown): T-Bone
Location of Pedestrian/Cyclist (If Any): N/A
---
Accident Sketch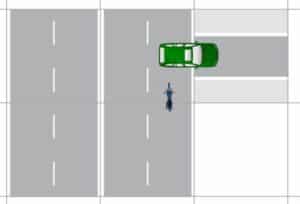 Narrative
A man was killed when his motorcycle slammed into a pickup truck on Crockett Mountain Road near Conroe. Deputies with the Montgomery County Sheriff's Office the driver of a southbound pickup truck attempted to make a U-turn by pulling into a private driveway. When the pickup crossed into the northbound lanes, a Harley Davidson motorcycle slammed into its rear. The motorcyclist, an unidentified man in his 40s, was pronounced dead at the scene a short time later.
We understand the days, weeks, and even months following a motor vehicle accident can be overwhelming. That is why we want to provide an official copy of your Conroe crash report at absolutely no cost to you. Forget the stress of obtaining your accident report through the local DMV or law enforcement office, let us do the work for you!
Simply fill out this form and our team will recover your Texas car accident report without ever asking you for a penny. The information presented above is a preliminary sample based on details provided by KPRC and is NOT to be used as an official Texas crash report.