HOUSTON, TX – Five people were injured, including two children, when their vehicle was rear-ended by a truck on the Fort Bend Parkway Tuesday evening.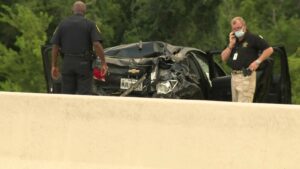 According to KPRC2, the accident happened in the northbound lanes of the highway near FM 2234 at about 6:10 p.m., when a truck collided with the back of a vehicle carrying a 4-year-old child, a 10-year-old, and their parents.
The passenger vehicle then crashed into another family member's car, which had a flat tire and was traveling at a slow speed on the freeway.
The two children were left in critical condition and had to be airlifted to the hospital. They were reportedly not fastened in safety seats when the crash happened.
The children's parents and the driver of the vehicle with the flat were also injured in the accident.
Authorities closed the northbound lanes of the freeway for multiple hours as they investigated the accident.
If you've been in a car accident in Houston, the most important piece of information you can have is your crash report, which is vital for insurance and injury claims. If you decide to file a claim for medical expenses or damages after a car accident, it can greatly help your case to have a copy of the official, unbiased report. If you or a loved one have been involved in a similar car accident in Houston, contact us today to get a free, no-obligation copy of your accident report.