HOUSTON, TX – The head of a Montgomery County motorcycle organization was sent to the hospital Saturday after a hit-and-run accident on Interstate 10.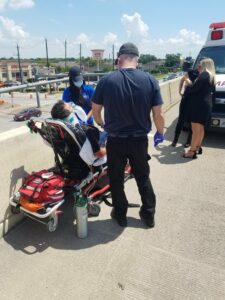 According to the Montgomery County Police Reporter, the accident happened while the motorcycle group was driving down I-10 near Beltway 8, leaving the memorial service for a Harris County Deputy who had died of COVID-19.
The victim, Allen Taylor, was struck by an unidentified female driver as she changed lanes. His motorcycle flipped over multiple times and he came to rest in the HOV lane. The driver fled the scene but was later apprehended by another officer about 15 miles down the interstate. She was taken into custody on a charge of felony hit-and-run. Taylor was transported to Memorial Hermann Hospital in Houston for the treatment of multiple injuries, including broken ribs and a punctured lung. He was in stable condition as of Monday.
Get Your Free Houston Motorcycle Crash Report Now
If you've been involved in a motorcycle or car accident, you'll find that your crash report is your most important piece of information when it comes to filing an insurance or injury claim. If you decide to pursue legal action in the case of damages or medical expenses, this official report can greatly help your case. Written by a police officer acting as a neutral third party, a Houston crash report serves as the official version of events for a situation in which emotions often run high.
If you or a loved one have been involved in a Houston motorcycle crash, contact us today to get a copy of your crash report for free.